Overview
The ezPoster 640 Series are all-in-one portable LED displays with a sleek, slim design, feature display size of 25.2×75.6inch, available in pixel pitch of 1.839mm, 2.0mm and 2.5mm with the resolution of 348 x 1044, 320 x 960 and 256 x 768. The ezPosters come with built-in media player, with WiFi and ethernet connectivity, easy to setup, can be used standalone, or cascade multiple pieces to a bigger video wall. Photos and videos can be uploaded through the ezPoster software and played back on the embedded media player, or feed your own media through the HDMI port. The ezPoster 640 series is great for exhibits, lobbies and events.
Key Features
All-in-One, plug and play
Built-in Quad-core Media Player with 8GB storage
Built-in WiFi Hotspot, easily connect to PC or smart phone
HDMI In and HDMI Out Port, build a cascaded big screen with ease
Intuitive Software for Windows, iOS and Android
Premium LED lamps and components
Front acrylic cover provides extra protection and professional look
Features
ezPoster 640 series Features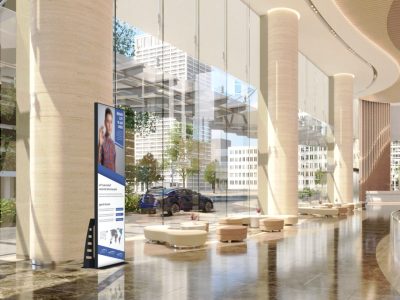 All-in-One, Plug & Play
While the traditional LED display setups need LED Display, Controller, Computer and Media Player, the Exovisual ezPoster comes with all in one. Just plug the power cable and it's ready to play. No complex installation or configuration which only can be done by trained professionals. Exovisual ezPosters can be used just like a TV. It's a versatile solution for creating your visual design.
Specifically designed for the Exovisual ezPoster, our dedicated software provides a straight-forward user interface, is available on all major platforms.
User friendly, easy and powerful
Group functionality allows easy setup of groups and convenient control to each group.
Easily transform multiple ezPosters to a large display with the cascade wizard.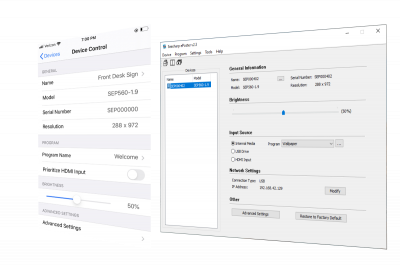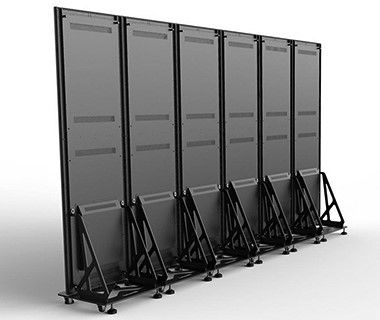 Expandable
The ezPosters can be transformed into a large display, used as groups, or as an individual design element.
With stunning visual effect, more vivid colors and higher brightness than other display technologies, easier setup and operation than a regular LED wall, the Exovisual ezPoster is a versatile solution for creating your visual designs with LED display technology.
Rich Interface & Connectivity
Designed for supreme user experience, convenient communication, and easy control of the screen,
The Exovisual ezPosters are built with multiple connection options:
USB-Tethering, Wifi Access point, WiFi, Ethernet
HDMI in/out
3.5mm Audio output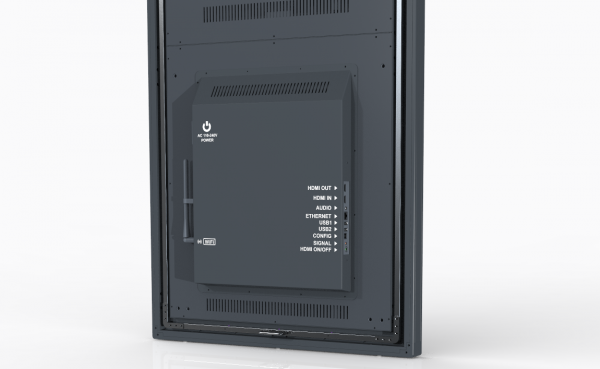 Let's go through the process together
Specifications
ezPoster 640 series Technical Specifications
Model
EP640-1.8
EP640-2
EP640-2.5
Pitch (mm)
1.839
2.0
2.5
Display Size (W X H)
640 x 1920 mm / 25.2 x 75.6 inch
Resolution
348 x 1044
320 x 960
256 x 768
Total Pixels
363,312
307,200
196,608
Dimension (W X H X D)
656 x 1936 x 80 mm / 25.8 x 76.2 x 3.15 inch
Weight
37.6kg / 82.9lb
36kg / 79lb
35kg / 77lb
Power Input
AC 100-240V 50/60Hz
Max. Power Consumption
650W
600W
560W
Avg. Power Consumption
280W
260W
250W
Connectivity
WiFi AP, WiFi, Enthernet, USB-Tethering, 2 x USB, HDMI In, HDMI out, 3.5mm Audio
Brightness
750 nits
Gray Scale
16,384
Refresh Rate (Hz)
>= 2880
Frame Rate (fps)
60
Operating Temperature
-10°C to 45°C / 14°F to 113°F
Operating Humidity
10 – 90% RH
IP Rating
Front IP40 / Rear IP40
Operating Life
100,000 hours
Module Size
320 x 160 mm
LED Type
SMD1515
SMD1515
SMD2020
Module Resolution
174 x 87
160 x 80
128 x 64
Scan Mode
1/29 Dynamic Scan
1/32 Dynamic Scan
1/32 Dynamic Scan
Module Count
24
Accessories
ezPoster 640 series Accessories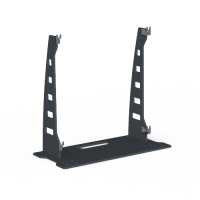 Base Stand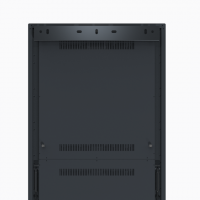 Hanging Bracket